Rides, Food, Prizes: Fair Season Is On the Horizon
Students share plans for the fair and favorite memories of fairs past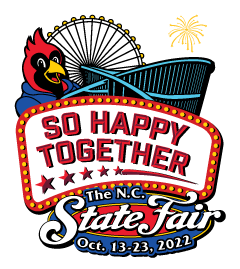 When there's a chill in the air, the lights come on and the games begin at the North Carolina State Fair. As opening night for the fair approaches, students share memories and express their excitement for one of the biggest events of the year.
Many students are planning on visiting the fair for a fun, family friendly experience.
"The environment and the memories you can make encourages me to attend," junior Savannah Speer said.
Some students attend because they are simply looking for something wholesome to do.
"It's just something fun to do, and there's not a chance to do that a lot around here," senior Whitney Carpenter said. 
Others take the event seriously and go all out for the state fair.
"It's one of my favorite events of the year, and I paint my face for it," junior Kyle Brazeau said.
Some are looking forward to partaking in their favorite fair games.
"I like to do the one game where you shoot the star out with a BB gun, and I like to do the one where you hit the balloons with a dart," senior Andrew Brower said.
Out of all the festivities, many students would agree that the biggest draw to the fair is the food.
"The food is the only reason I go," sophomore Matthew Howard said.\
Students are looking forward to enjoying traditional fair food, from funnel cakes, to lemonade, to turkey legs.
"The rides take so long to stand in line for, and fair food just hits different," senior Hailey Nguyen said.
Though students enjoy going to the fair, they admit that it's expensive. Students have reported spending anywhere from $10 to $1000 dollars on the state fair. Senior Delaney White spends most of her money at the fair on food or attempting to win prizes.
"I once spent at least like $35 trying to win a Bulbasaur plushie," White said.
In preparation for opening night, students look back on their proudest moments and carnival prizes they've won in years past.
"I went to the state fair, and it was the one where you had to throw the ball in the bucket, and I won a big Pokémon plushie," junior Adam Kotynski said.
Some students won long-lasting companions.
"I won a goldfish, and it has been alive for four years," senior Malia Spencer said.
While others only had their prize pets for a short amount of time. 
"I won a fish once and it died on the way home," White said.
Carnival prizes play a starring role in some student's fondest childhood memories.
"It's this little stuffed penguin I got when I was real little, and I earned it all on my own," junior Dylan Medlin said. "I do have the penguin. His name is Fluffy."
Though most prizes from the state fair eventually get discarded or thrown away, White travels with hers every day.
"A minion plushie, and yes, he's buckled into the backseat of my car," White said.
The fair is set to open Oct. 13 and will last a duration of 20 days. Much like the majority of our student body, senior Mari Zellmer will be celebrating the arrival of the fall season at the North Carolina State Fair. 
"The fair is really fun, and it's a tradition I look forward to every fall."