Hollywood bound
Ever watch your favorite celebrity stroll down the red carpet? Along, the way you've seen them stopped and interviewed by a reporter. Someday, Tierra Marsh would like to be that reporter. To start on that path, Marsh is an intern at WPTF radio.
"I realized I liked talking in front of people and what announcers did, and I've known for the longest time it's what I've wanted to do," Marsh said.
Marsh started at Curtis Media Group in the beginning of the school year. Her parents were the ones who helped her get this internship by getting her in contact with Chris Atwell who is the personal recruiter at WPTF.
Atwell says that Marsh is a "great candidate" for the internship because of her "obvious drive and motivation."
Marsh hopes to extend her internship into her future career.
"I really want to go to Chapel Hill because they have a really good journalism program, and they've been really helpful so far," Marsh said.
Marsh wants to continue her career after college, hoping to be on a television broadcast show.
"When watching the broadcasters, it didn't seem like work to them but something you love to do, and it kept me interested, and I wanted to pursue it and keep doing it after college," Marsh said.
At her internship Marsh's supervisor, Mark Arsen, gives her tasks to help her learn in the field of broadcasting journalism.
"I practice doing my voice stuff on the recording, then I can see what things I need to work on," Marsh said. "When he plays back my clips, it's so cool because he puts the music under and makes it sound real."
Through her internship she has talked to several significant people.
"In just a couple of months, she has spoken with local mayors, United States senators and even the Governor," Arsen said.
Marshes advisors are enjoying her work ethic and excitement she brings to the station each day.
Arsen said, "she has done a great job mastering each task we've given her and continues to show enthusiasm towards learning about the next facet of talk radio."
Leave a Comment
About the Contributor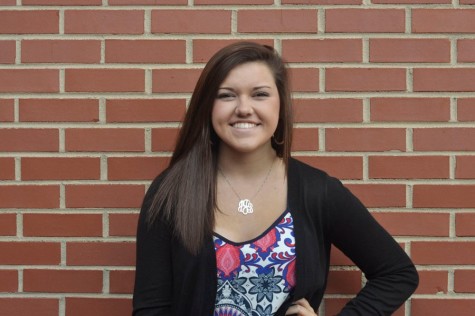 Isabel Jones, Online Editor-in-Chief
Isabel is a senior and has served on the newspaper staff for three year.  She is the Online Editor-in-Chief, plays volleyball for the schools team,...