Seniors Compare College Level Courses
Wake Tech CCP program offers a different path to college credit than AP courses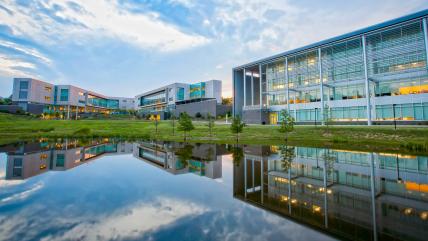 As juniors and seniors come upon their final years before college, there is a new option for college credit waiting for them. 
Wake Technical Community College offers college classes for high school students as a part of their College and Career Promise (CCP) program. The CCP dual enrollment program offers different pathways that students can choose from that help guide them toward their future. 
Students participating in CCP classes are permitted to leave the high school campus early to complete their work as needed, with many of the classes hosted entirely online.
Counselors inform students about dual enrollment possibilities over the announcements and through emails. Some students also learn about dual enrollment from upperclassmen friends and family. 
For students participating in both Advanced Placement (AP) and CCP classes, there are differences between the classes that help to determine which course is best for you. One of the biggest differences is the classwork.
"Wake Tech classes can be hard and easy," senior Ashton Beckom said. "The material is on college level, and you usually have to teach yourself. If you can't handle that, you shouldn't do Wake Tech."
While CCP students agree that there is less work, some find it difficult to remain motivated to do classwork on time.
"Due to procrastination and home life, putting time out for CCP classes with no one pushing you to do it can be difficult," senior Adam Elraddaf said. "While coursework can be less compared to AP classes, deadlines come in fast, and you have to put time out of your day to complete your work promptly."
CCP classes are hosted on a classroom management system called Blackboard. Teachers use Blackboard to push out assignments, give announcements and share students' grades. Using Blackboard has provided students with an experience similar to what they faced during online school.
CCP classmates encourage students who did well during online school to give dual enrollment a chance.
"As much as I love the CCP program, I think AP classes are easier to manage, but for students who do well in online classes, CCP is definitely for you," senior Will Spraker said.
Having the college classes hosted online does bring up additional challenges for students, beyond time management.
"Wake Tech Classes are a lot harder than the AP classes because everything is done at your own pace and online," senior Hailey Nguyen said. "Therefore, asking for help is harder than usual classes."
Similarly, some students struggle with learning the material through an online portal.
"I spend more time on CCP classes than AP classes just because I have to learn the material at home compared to my AP classes, where the teacher usually teaches and gives class time to work on things," senior Annika Taimela said. 
Despite the struggles that online courses may bring, students agree that one of the major upsides to CCP classes are the exams.
"I struggled on AP exams, and I felt that just taking one test to determine my college credit wasn't helpful to my future," Beckom said. "Wake Tech gives me a true college experience and college credit I can transfer to some colleges."
Overall, CCP students recommend students give CCP classes a try.
"I would recommend CCP to students because it isn't just a good way to get some extra college credits, but it also teaches you how to manage your time," senior Cole Mcintyre said. "It teaches you better study habits and can supplement your high school GPA."
Leave a Comment