WF fields first ever Brain Game team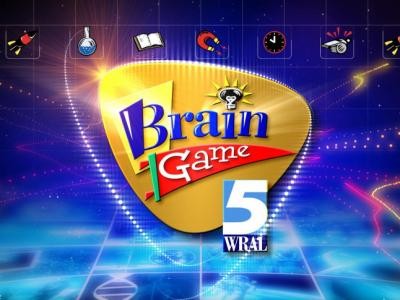 While most are sleeping in on Saturday mornings, a select group of students are partaking in a competition known as Brain Game.
Brain Game is a show broadcasted every Saturday morning at 11:30 a.m. on WRAL. This show features three teams from local high schools as they compete between each other in a trivia game.
The show has been broadcast since 2008, but this is our first year participating in the competition.
This isn't the first year doing the show for the teacher in charge, Brenda Atkins. Atkins coached at South East Raleigh before she came to Wake Forest.  Her previous experiences with Brain Game influenced her decision to start competing
"I had coached at another school and it was really fun," Atkins said.
On the show students are asked questions regarding pop culture, geography, math, science and literature.  In order for participants to be knowledgeable on these topics, they would gather during Cougar Time.
"We just practice, look at a lot of questions," sophomore Nick Fekaris said.
With this being the first year participating, there were some challenges the team had to face.
"We didn't know what or how to practice.  We were also behind because the other teams had longer to prepare," senior Graham Renfrow said.
Going into the competition, their aspirations were "to have fun and to advance as far as possible," Renfrow said.
Even though the team will not reach the playoff for Brain Game this year, they still accomplished their first goal.
"We certainly had fun at filming," Renfrow said.
Atkins still has hopes that the team will be good, but the team is a work in progress.
"I think it'll take a couple years of generating and developing it," Atkins said.
Although he is moving on, Renfrow hopes the team continues.
Renfrow said, "it feels good to be a founding member.  I'm glad I could be a part of the first team. Hopefully the underclassmen can build on this year and continue the program."