Thespians Revel In Return To Stage For Puffs Performance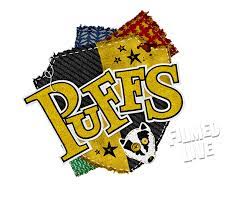 As the production of the play "Puffs" came to a close, actors as well as crew reflected on being a part of the performance. For several actors, it has been their first experience being back on a stage after COVID-19 remote learning, and for many, it's good to be back.
"It felt great. It felt like a period of time where I was missing what I have been doing since I was a little kid. It felt great to be back in that flow of normalcy," junior Alaina Johncour said.
After a long period of not experiencing an in-person production, getting back into the groove of things has proven challenging for actors and crew alike.
"It was definitely having to do a lot of things without the actors there. I think that there were a lot of new actors. It was also getting momentum down, because this was their first experience in actual live theatre instead of doing projects over covid," junior Faith Bobe said. "It was a whole new shaken atmosphere that everyone had to get used to."
Many of the cast enjoyed getting to know their characters as well as the script throughout the experience.
"Cedric is just a really fun character. He's very face value and a very influential character throughout the show. His bits are hilarious, and it was hard to not fall in love with him while I was reading the script," junior Caleb Van Doornewaard said.
Along with gaining experience of a show under their belts, many also reminisced on the memories they shared together throughout the show.
"My favorite moment besides just finally being on stage again would be marathon. Marathon is when we stay late and run the show multiple times. We get pizza, food and people bring snacks. We do a little fun run, where we actually run the show but instead of saying our normal lines, we can say something funny or stupid, and that was really fun," Brandon Leach said.