Costa Rica dreams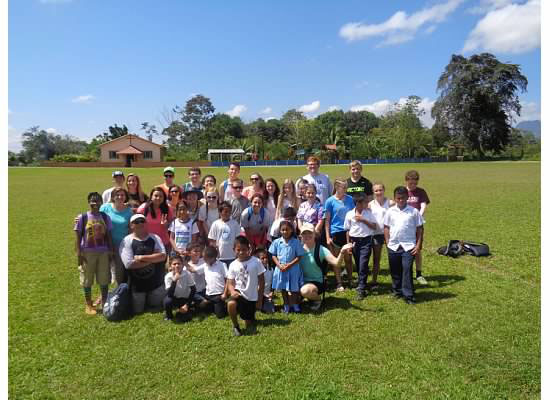 Over spring break during the 2014-15 school year, several students managed to make it out of Wake County and took an educational trip to Costa Rica. They were accompanied by Psychology teacher Rachel Prather and World History teacher Jeanette Salisbury.
"It's Costa Rica. I really like traveling in general, and I'd never been out of the country. It was a new experience to take with friends instead of family," senior Morgan Hussey said.
The students boarded a plane at RDU and flew to Miami. From there they flew to San Jose where they took a bus for the remainder of the trip to their hotel.
"The trip there was the most tedious part. I was so anxious to get there and to get started with seeing everything that it felt like it took forever," senior Will Hughey said.
Once the students were settled into the country, they were made to feel at home in non-traditional hotels.
"The hotels were a lot different than one might expect in America. In America, we expect high class, things, and then in Costa Rica, it was pretty much like camping inside. It was really hot and the beds weren't super nice. It wasn't a very luxurious place, but it was laid back, and it was still fun," Hussey said.
During their trip the students participated in many tourist attractions such as hiking up a volcano, white water rafting and zip lining.
However, most of the students agreed that the greatest part of the trip was the "Costa Rican lifestyle."
"The most memorable experience was probably the last day when we went on a big party boat, and we watched the sun set. On that day we went snorkeling and kayaking and we saw dolphins," Hussey said, "It was the best day. It's just like a whole country run by hippies."
Hughey is glad that he had to opportunity to visit Costa Rica over spring break.
"I would definitely go back to Costa Rica. It was an amazing trip that I am grateful to have experienced in high school. I'm glad I decided to travel rather than turn up over spring break," Hughey said.
Costa Rica displayed a positive impact on those who attended the trip.
Senior Alyssa Moore said, "There was not a single part of the trip that I didn't like. Even though I got over 60 mosquito bites, had to pay to use the bathroom, bathe in sunscreen and was profusely sweating 24/7 due to no air conditioning, I enjoyed every part of the trip and living the Costa Rican lifestyle."