Stock market game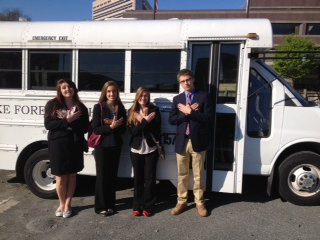 Every year Brad Baker, Civics and Economics teacher has students participate in "The Stock Market Game."
"The Stock Market Game gives students the chance to invest a hypothetical $100,000 in a real-time portfolio while they compete against their peers across the state," Baker said.
This year teammates include juniors Amber Daniels, Mary Kate Connelly, Samantha Thonus, and Tyler Tew. These students participated and qualified for the NC Economics Challenge at the Federal Reserve Bank of Richmond in Charlotte.
"Every group answered a series of economic questions on the computer without any help from their teammates. Their answers were graded and added up, and the top eight teams from all of North Carolina were invited to the Economic Challenge," Baker said.
In order to prepare themselves for the challenge, the team was given a packet of sample questions that the Economics Challenge committee released.
This event benefited the students by allowing them to have a good time, gain confidence and open their eyes to the world of economics.
"Our team was composed of three ladies and one guy. The girls were three of eight in the whole competition and eight of the nine judges were men also. So maybe they take that as some incentive to get into a career in some field of economics," Baker said.
Baker also benefitted by meeting a few contacts within the North Carolina Council of Economics Education which will help in obtaining teaching materials, future lessons and guest speakers.
"It was neat to go to Charlotte with those kids and see them compete and have fun. I enjoyed the trip and got to know those students a little better. Sam Thonus set off the metal detector which was good for a laugh," Baker said.