Swim Teams Wrap Up Season At States
Sisters Clarissa and Chrisna conclude their careers as four-year state qualifiers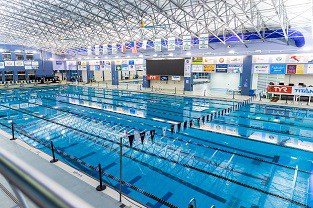 Your Cougars wrapped up an exciting swim season at the Triangle Aquatic Center (TAC) Feb. 10. 
Senior swimmer Chrisna Bezuidenhout swam in the 100 yard backstroke and the 100 yard butterfly. A 57.3 finish in the 100 back landed her 18th, and then her 57.1 in the 100 fly landed her a spot at finals that night. 
Being the only Cougar at finals that night, Chrisna represented the team well, shattering her preliminary time with a 56.9, just a tenth off her own previous school record. 
Senior and twin sister Clarissa Bezuidenhout, representing the other half of our Cougar ladies at states, swam the 200 yard freestyle. With a time of 1:55.09, she landed herself 20th, also almost reaching her previous school record in that event. 
Representing the cougar men, junior Nicholas Caporaso took on the 100 yard breaststroke. Finishing with a 59.1, Caporaso landed himself 20th place, and was only a tenth off his previous school record. 
Last but not least, the men's 200 medley relay team qualified for a spot at states. Consisting of sophomore backstroker C.J. Eickhoff, senior Max Westfall, Caporaso, and sophomore Yaphet Abebe, the crew ended up grabbing 21st and clocking a season best time of 1:39.22.
Coach Dr. Justin Richards reflected on the men's season. 
"I think the highlights for the men's season was finishing second at the conference meet. That's the biggest meet of the year, and I think we tightened up, got focused and continually improved throughout the season leading up to that meet." 
For the women's season Richards said, "we have a good young group. Even though we were not as deep in years prior, everyone did their part. I do want to give a shout out to the twins though, just because they have been such a big part of our program the last four years, and individual state qualifiers the last four years."
Leave a Comment