Dominant JV football team captures Cap-8 conference title
The junior varsity football team steamrolled their way to a Cap-8 conference championship, sharing the title with Millbrook High School. The Cougars and the Wildcats both finished  the season 7-1.
The Wildcats were the only team to trip up the Cougar offensive juggernaut, while Millbrook's only loss came to Wakefield High, who the Cougars demolished, 48-13.
Six impact players were injured when Wake Forest faced Millbrook, including linebacker Darius Hodge, linebacker Jake Campbell, quarterback Ki'mon Small, and running back Shy'heem Mitchell. The injuries and six turnovers on the night ended the chance for a perfect season.
"The kids learned that they needed to make themselves more versatile, the game added more depth and we did not have to rely on the same players," coach Glendon Dillard said.
Other than that one hiccup, the team averaged a 31 point margin of victory over opponents on the season.
"I thought we did pretty well. We only lost one game. It felt good to be conference champs even though we were co-conference champs," sophomore kicker Cole Westberry said.
The players all cite different sources for the team's laudable success.
"We worked together as a team, and we all worked hard," sophomore offensive lineman Todd Nasby said.
The team's success can be accredited to many factors.
"We had outstanding coaching and players with great work ethic," sophomore offensive lineman Jacob Kalet said.
The players also remember different high points on the season.
"When we beat Leesville, it was a win over a huge rival and we were all hyped," Kalet said.
The team also defeated Rolesville High School, marking the first ever meeting between the two schools on the gridiron, 55-14.
"Beating Rolesville was important. Rumor said they took our name, so it was only right for us to take the win," sophomore linebacker Shelton Justice said.
The Cougars became brothers between the hashes over the long, hard season.
"Every practice we pick on each other and pick each other up. It's a way to bond," sophomore quarterback Ki'mon Small said.
Earning a conference title, whether on JV or varsity, is no small achievement. It takes a committed group of athletes.
Sophomore defensive back Anthony Staley said, "The championship felt good because we all worked hard and felt like we deserved it. Our hard work paid off."
Leave a Comment
About the Contributors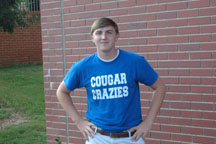 Jackson Cook, Co-Sports Editor
Jackson is a senior and first year staff member.  Jackson is the leader of the student cheering section (a.k.a. Mr. Cougar). He aspires to attend UNC...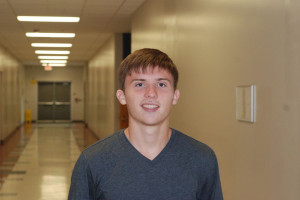 Jacob Turner, Co-Sports Editor
Jacob is a senior and in his first year on the staff.  In addition, he is a four-year starter and senior captain of the varsity soccer team.