Levy ends storied golf career
When the girls' golf team clinched 6th place at states this fall, the team celebrated its highest finish under coach Kevin Lynch. The moment marked another significant milestone: the end of senior Amanda Levy's successful career.
Levy capped off her career with an appearance at the 10th Annual Nature Valley First Tee Open at famed Pebble Beach golf links in California, where she finished 14th among 81 other junior golfers and finished 5th among female golfers.  Levy also finished in the top 25 at states with a 168 and ended her career as a four-time all conference player and state qualifier.
"She's built the program, whether she knows it or not. Women's golf is fairly, relatively new. So, hopefully young girls, whether they're here or not that are coming, will recognize her and want to follow in her footsteps," Lynch said.
Lynch noted that Levy's "desire to win" sets her apart, as does her helpful nature towards her teammates.
Sophomore Samantha Bennett cited playing with Levy as the strongest influence in helping her to improve as a high school golfer.
"My first year, she was a lot better than me and challenged me to do better. She challenged me a lot this year," Bennett said.
Levy, though, feels the support of her teammates to be just as important to her success.
"They're like a family. I love them. It just makes me want to play better because you know your team wants you to do well, so you go out there and you do well," Levy said.
WRAL and retired sports anchor Tom Suiter honored Levy with the Extra Effort Award in October as recognition of her achievements as a high school athlete and student.
"I'm definitely proud. I wasn't expecting it. It was a surprise and then I found out I got it, and I was like I didn't think I was that good," Levy said after being honored.
Levy plans to play golf at UNC Pembroke next year and feels her high school career has prepared her well for this next challenge.
"I feel more confident that I can do well later on. Pebble Beach really helped with that because that was a lot of pressure. I feel like it'll make me keep trying harder because I know what I can do."
Levy said her practice every day and her lessons with a professional coach have also aided her progress. But the journey to this point has not been without adversity.
She said her lowest point came during her sophomore year after surgery on both her feet.
"My golf game was awful, and I never thought that I would want to quit golf, but that was a point in time where I did want to quit," Levy said.
Golf is a game of euphoria and defeat. Not every outing shows one at her best. Levy acknowledges that her performance at states her senior year fell short of her desires.
"I didn't want to shoot that way. But for a bad game to come in, it was bad timing."
But accomplished golfers have to put the past behind them. Tomorrow is another round, another chance to shine.
"I know what I have to work on, so it'll get better," Levy said.
After a storied career, Levy has one special high school memory that she cherishes: the victory over Wakefield last year in the last match, and her coach's promise to the team.
"Coach had to jump in the water because he said if we won he would do it, and we did, so he had to."
Lynch admits replacing Levy will be tough.
"It's going to hurt. She was solid for four years here in the women's golf program," Lynch said.
Bennett will have to take up the mantle of leader for the team next year. Bennett finished ahead of Levy at states, shooting a 166.
Lynch said of Levy, "she's passing the torch on to Sam."
Leave a Comment
About the Contributors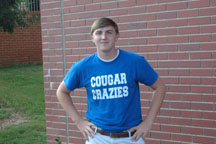 Jackson Cook, Co-Sports Editor
Jackson is a senior and first year staff member.  Jackson is the leader of the student cheering section (a.k.a. Mr. Cougar). He aspires to attend UNC...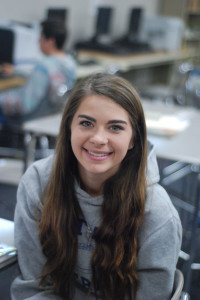 Brandi Norton, Reporter
Brandi is a senior and a new member of the staff.  She is excited to be one of the first-year graduates of the newly named high school.