Sprite Cranberry Becomes The Essential Winter Beverage
Sprite's limited edition beverage visits again for the holiday season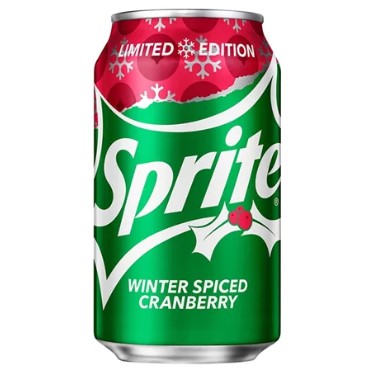 It's the thirstiest time of the year, so says DRAM and Lebron James.
Warm weather rolls out, and this unique drink rolls in. The serenading commercial has made its way back to TV as Sprite announces the seasonal return of Winter Spiced Cranberry. Give credit where it's due because Sprite has created a masterpiece of sales tactics.
After making its first appearance as Sprite Cranberry in 2013, it was the latest flavor innovation since 2005. Then in 2019, it upgraded to Winter Spiced Cranberry, the new and improved combination of winter flavors.
The drink itself is a combination of classic sprite and warm-tart cranberry. Though it still resembles a regular Sprite, it smells and tastes nothing like the standard variety.
Several have compared this drink to its competitors; Sierra Mist Cranberry Splash and Cranberry Canada Dry. Both are true cranberry red, but neither upholds the cranberry flavor. How "true" artificial flavors can be is limited, but that doesn't stop Sprite.
Sprite Cranberry tastes like crushed ornaments in a cup. As unappealing as that may sound, look at it from a symbolic view. Broken ornaments are the demolition of delicacy. They're tempting to shatter, but you shouldn't. This drink has somehow bottled up the unrealistic temptation and transformed it into an explosive-delicious beverage.
Though a beverage, the combinations are endless. People will make a more flavorful drink, mixing Sprite Cranberry with others such as fruit punch. They'll also combine it with vanilla ice cream, disguised as a seasonal "Root Beer" float. Some people will even take the extra step to use Winter Spiced Cranberry Sprite as a base for desserts.
It has evolved from just a new flavor to a holiday tradition. Unlike other fads that have fallen under the snow, Sprite Cranberry has kept its spot in the winter lineup. Ready to bring people joy while it's around and leave people thirsty for its unique tang when it's gone.
Leave a Comment