NC Legislature passes controversial voter law
Over the summer, a law was passed that restricts how and when voters cast ballots in the state.
Among other provisions, the law requires voters to present an I.D. when they go to vote. Voters that are unable to obtain a drivers license due to a disability, being elderly or underprivileged can request a free I.D. The law is receiving mixed reviews from the student body.
"If you're a legal citizen, you shouldn't be scared to show I.D. If you're illegal, you shouldn't have an opinion or vote," senior Brandon Siharath said.
Sophomore Ben Lee does not like the law.
"Republicans say the law is to reduce voter fraud, which is only a problem in .001 percent of ballots. 1 in 15 million ballots are fraudulent," Lee said.
Some students believe the law was created by to benefit the Republican Party.
"The Voter I.D. law is a very partisan law that smells of conservatives," Lee said.
One part of the new law restricts young people of the ages of 16 and 17 from pre-registering to vote at school. Previously a week was set aside by the Social Studies Department for interested students to register. It also does not allow same-day registration.
"Not allowing students to pre-register is a huge mistake, as when they turn 18 they are off to college, many out of state, creating a challenge for them to register," AP Government teacher Jeremiah Mattingly said. "If they are allowed to register at a younger age, when obtaining their permits or in school, they are more likely to become a voter at age 18."
Junior Brett Zeck also feels getting rid of the registration is a poor decision.
"Eliminating same-day registration or preregistration decreases the amount of voices able to be heard," Zeck said.
The new law also cuts down on the days that early voting is open. Previously, early voting sites were open 17 days prior to election day. With the new Voter I.D. law, early voting will be open for 10 days.
"This will hurt all voters, as many professionals, like teachers, like to vote early after leaving work. To me this is the greatest tragedy of the new law," Mattingly said.
Another provision of the Voter I.D. law is that voters must place their votes in their designated voting place. This forces college students and others that live out of town to travel back home to place their vote.
Senior Caleigh Crane thinks that this part of the law should not stay.
"They should change it to where you can vote anywhere as long as it's in your state. Your vote should still count and be counted for your district," Crane said.
Groups like the NAACP, American Civil Liberties Union and Democracy NC do not agree with the new law.
"Democracy NC is adamantly opposed to House Bill 589," Democracy NC Organizing Director Adam Sotak said. "We are not only opposed to the Voter I.D. part, but other harmful parts as well. We are opposed because we think it is a partisan bill being used to suppress some groups and peoples votes and that's not good."
The new law has caught national attention from the Obama administration, as well as the United States Justice Department.
The Justice Department is suing the state of North Carolina saying that the Voter I.D. law is "racially discriminatory."
"I feel the law will be determined unconstitutional as it takes away the rights of many citizens, or right to participate in the political process," Mattingly said.
Mattingly has an idea of what should happen.
Mattingly said, "Our law makers need to come back to reality and understand that people make this state great and they are interfering with our rights and our voice. Our founding fathers would not stand for such actions."
Leave a Comment
About the Contributor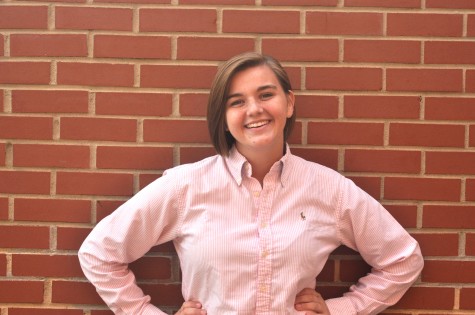 Kathleen Cook, Editor-in-Chief
Kathleen is a senior and has served on the newspaper staff for three years. In addition to being editor in chief, she is in National Honor Society, Math...