Honor bound
Every Wednesday 145 sharply dressed students don their JROTC uniform and visibly show their pride and honor for their program.
The Junior ROTC, commonly misunderstood as being an army preparatory class, is a leadership training course designed to teach students how to be better citizens.
What people may not know is that the cadets compete quite often. The program has been successful this year thus far, placing first at the South Granville Drill Color Guard and Raider team competition and second at Cleveland High School and Johnston County High School meet.
Success at competitions like these is one reason the program has earned the highest possible ranking, Honor Unit of Distinction, after every three-year inspection since the program began.
However, their success did not happen on its own.
The program's success this year started back in June before school started. Nineteen cadets traveled to Fort Pickett, Virginia. Seniors Robbie Matesevac and Danny Payne competed for the honor of being recognized as "Top Cadet of the Camp." Both cadets were recognized for their accomplishments and identified as "Commandant's List" selectees.
According to junior Bryan Duran, it takes a certain amount of seriousness to do well.
"You have to make sure you're not joking around. We have competition mode, and we have joking around mode. When we're in competition mode, we're really serious, and we make sure if we mess up, we make sure we correct that," Duran said.
Later in the year, Cadets Anna Weaver and Mallory Herrin were recognized for having been a part of the only squad that successfully completed three of the most difficult obstacles of the Leadership Reaction Course.
There are several different reasons as to why students join the program.
"My family influenced me a lot to be a part of the military. They said ROTC would be the best route to learn the way the military works and that it develops you as a person. All the males in my family have served, and I'm expected to serve," senior Trystan Powers-Ramge said.
Students also take away different aspects from being in the program.
"It's definitely taught me about leadership and a lot about controlling your emotions. It's taught me to be very organized," Powers-Ramge said.
Weaver also won the overall Top Participant Award from the N.R.A. YES program, winning $1,000 and the opportunity to compete for a $30,000 scholarship in Washington, DC.
Accomplishments such as these take more than practice.
To Powers-Ramge, in order to do well, it not only takes a lot of effort, but all of your effort.
That effort took cadets to the 2013 Purple Heart Ceremony Aug. 10 at Wake Forest Presbyterian church. The ceremony honoring wounded veterans who received the Purple Heart medal began in Wake Forest, but has since spread to the whole state.
Over 600 people attended the event. The cadets escorted in each veteran and provided the honor guard and color guard.
"I liked honoring the veterans. They seemed happy and proud of their accomplishments and duties," Matesevac said.
In addition to playing a role in community events like these, the cadets compete six times a year: three in the fall and three in the spring semester.
At each event, like the ones at South Granville and Cleveland High School, cadets compete in three areas.
The first area is the Raider Physical Training (PT) contest. Here, cadets ate timed on how quickly they can cross a one-rope bridge, while holding on to a single top rope, how quickly they can finish a 5K march, a PT test on physical fitness, and obstacle course where cadets navigate while carrying a teammate on a litter, and a logistic relay filled with obstacles.
Senior Michael Osborne has won back to back Top PT cadet the last two years.
"I've worked all of my freshman and sophomore years in order to get up to be able to be one of the top competitors, so it's a big thing," Osborne said.
Describing the Raider team, Osborne said what makes it great is that "we're all like a big family, we motivate each other to do our best, and we don't quit even if something is hard for us."
Along with Raider team, The color guard competes in a drill where they are confined to a box and must complete all their maneuvers without leaving the space. Armed drill teams (with rifles) and unarmed teams (without) must also march in precision while following 30 different commands.
"It's difficult because there are a lot of people watching. You have to show a lot of respect, but it's easy because we practice a lot," senior Meredith Berndt said.
The final portion of the competition deals with marksmanship. Unlike the other two sections, which the cadets practice three days a week, the campus does not afford a place for marksmanship practice. Several cadets, however, have experience shooting and compete at each meet.
"I go up to my grandparents house usually and shoot. During the winter time I go up there about every weekend. I usually just go hunting or set up some targets," sophomore Jackson Matthews said.
November is always a busy month for the cadets, as they are in high demand at area ceremonies honoring our nation's veterans.
Over 100 cadets marched in the Veterans Day Parade Sat. Nov. 9 in downtown Raleigh. That Sunday, the cadets were in attendance at the Stony hill Missionary Baptist church ceremony honoring local veterans. Monday found them at the ceremony in Heritage Wake Forest at the Veterans Memorial and the cadets capped off their service to veterans at the Golden Corral Monday night at the annual dinner where veterans eat free.
"It is important because it is good for them to be able to learn and honor veterans before them and hear what they have done for our country. It can inspire cadets," Matesevac said.
Service and honor run deep in the program, and for some cadets those passions will continue beyond high school. One benefit of earning the highest honor as a program, Honor Unit of Distinction, is that Principal Patti Hamler can nominate five cadets to attend a service academy, like West Point.
Matesevac attended the summer seminar at the Naval Academy at Annapolis, MD this summer. The seminar is a six-day experience for high achievers who have completed their junior year in high school. It teaches about life at the Naval Academy, where academics, athletics and professional training play equally important roles in developing our nation's leaders. This year, Matesevac has interviewed with three congressmen to secure a nomination to the academy.
Senior Drake Kuntzleman will also continue his experience at Appalachian University. He won a ROTC scholarship and anticipates a harder and more dedicated organization there.
"It's important to me because it's honoring my dad's service, and that's why I got in and started that way and just progressing throughout the years, getting the recognition as being a cadet and working with the cadets is a tight bond, like a brother and sistership," Kuntzleman said.
After Matesevac, Kuntzleman and others depart, the program will still be in good stead. Lt. Col. Dimitri Belmont said his 60 freshmen cadets are the best group of freshmen he has had.
Freshman Charles Schmidt said, "My brother was in ROTC his four years and he told me what happened there, so I joined ROTC. It's been a very warming experience. They're like a family to me. We had great leadership."
Leave a Comment
About the Contributor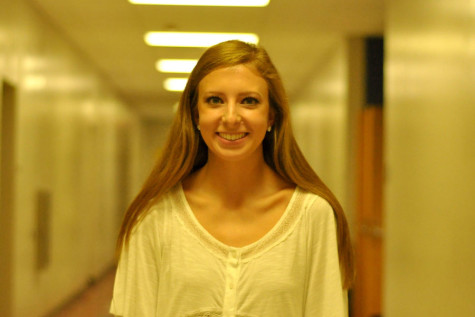 Rachel Lyon, Co-Editor-In-Chief
As a senior this year, Rachel is a member of National Honor Society, Student Government Association, as well as Spanish Honor Society.