Grad rate exceeds state average
We dominate in football, have an award winning student section, a very accomplished JROTC program, but how does Wake Forest place among other schools with our four-year graduation rate?
Wake Forest places above the county's average graduation rate of 81 percent with an 86 percent graduation rate.
In comparison to local schools, Heritage and Wakefield, Wake Forest has a slightly higher graduation rate than Wakefield (85 percent) but a lower rate than Heritage (89 percent). Within the Wake County, the two schools who have the highest rate are Green Hope and Panther Creek (95 percent).
Every year, the faculty must take the steps necessary in order to see improvement in the school's graduation rate.
"We have looked at all the data and shared it among the staff. Counselors have met and looked at all our students and have tracked when they're supposed to graduate and made sure they follow that track through scheduling, meeting with counselors and groups, and making sure all students' schedules meet with their specific needs," Principal Patti Hamler said.
Counselors also have a plan in place.
"To make sure students graduate in four years, we set up four-year plans, discuss career interests with the students to see what can be done with classes to get these students to their possible career goals, emphasize community service so they appeal to colleges, and make sure we can do all we can so that students can not only be good students but also active citizens," Counselor David Ruggiero said.
Student services must also watch those students who intend to simply drop out.
"A lot of times, when students drop out, we do not know until they have actually dropped out.
"For those who are on the fence with dropping out, we immediately make contact with them and sit down with them to understand what is really going on. You would be surprised of some of the reasons given and for the most part the student feels like dropping out is their only option.
"So it is our job to understand the need and then offer options and resources available to them," Dean of Students Kadeidra Carr said.
"Sometimes those resources consist of resources right here in our building, and at other times we may need to refer out and use outside resources. It all depends on the individual and the needs of that individual. But as a department we intervene when we are privy to the information. Communication is the key."
Leave a Comment
About the Contributor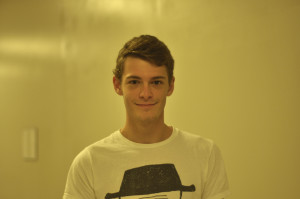 Joe Warn, Reporter
Joe is a senior and new to the staff. Joe is also involved on the swim team, optimist club and film club.