Thespians Honored with Multiple Awards at Annual Theatre Conference
Although neither performance team advanced to states from district competition this year, numerous individuals were honored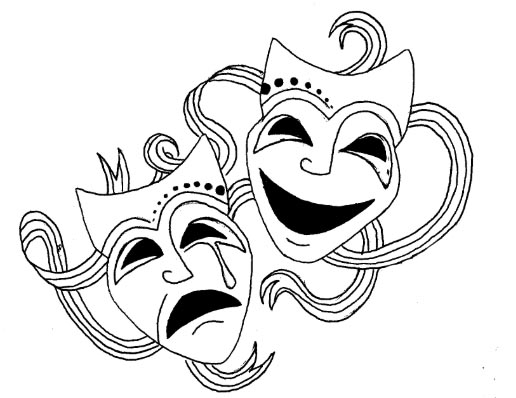 On the first weekend of November, the advanced theatre class competed in the North Carolina Theatre Competition (NCTC). In this competition different schools compete against each other for the opportunity to advance to states.
This years competition took place in Boone, North Carolina and our TROUPE class did two shows. They performed "And" and "Lafayette number 1".
"Going into the performance I felt like I had a truck hovering over my head, and if I messed up then it would fall on me. Weirdly enough at the same time I felt that we were going to do well," junior Alex Greaves said.
"And" was about the narrator Erin's inner conflict after finding out that her older sister was raped while everyone was there in the house with her. Erin struggles to understand how so many things can happen in the world at one time and uses other characters' stories to try and make sense of the "and factor."
"I was so grateful for the opportunity to take part in this play. My character Erin was a huge challenge for me. Developing Erin's character was the hardest character I've had to develop. Trying to connect with Erin was very difficult because, well, I'm just not a nerd, and I do not use big words. But regardless of the difficulty in developing this character, it was awesome! I loved the connection I ended up actually feeling with the character by the time we performed at Boone. It was such a great experience," senior Aleia Bowman said.
"Lafayette number 1" was set in New Orleans during the yellow fever outbreak. It told the story of a group of orphans living on the streets and a girl they had befriended named Lizzie. "Lafayette number 1" is a true story of how the yellow fever affected people and how eventually a rich politician named Jullian Poydrus created a house for orphans and widows to stay in during that time.
"To be in Lafayette was an incredible experience. It was such a meaningful show. I loved working with everyone in the cast, and I really loved developing my character Lizzie. She and I are very similar, always striving for better, always wanting to help others, and she is who I hope to be one day. Also the fact that these orphans we represented were real kids, and we were given the opportunity to tell their story really touches my heart. I'm just very grateful for that opportunity, and I hope we honored those kids memories," senior Noelle Sylvia said.
Although neither show advanced to states "And" won Honorable Mention as a distinguished play and Outstanding Achievement in Ensemble Acting. Sylvia, Greaves and junior Safie Anderson all won excellence in acting for their work in "Lafayette number 1". Bowman won Outstanding Achievement in Acting for her portrayal of Erin in "And". Junior Addison Davis and senior Francisco Ortiz won awards for their set designs and theatre teacher Kristen Rendina won an award for her direction of both shows.
"I'm so proud of all my students that worked really hard, they were so supportive of one another and it showed on stage. We got the most awards of anyone there, and we got all aspects from acting to technical to directing so that is something to be really proud," Rendina said.