Where Are We Going For Lunch?
Multiple factors come into play when teens choose where to go for lunch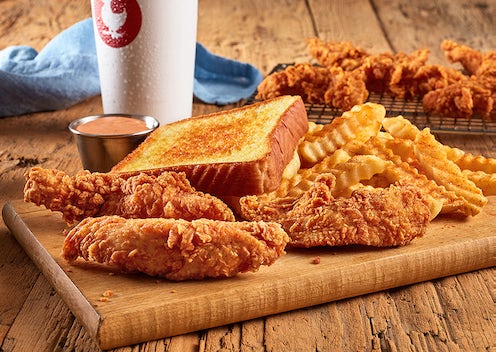 The ability to go off campus for lunch is one of the preeminent privileges students earn as they become an upperclassman. When going off campus, there is an array of options which teens can choose. 
Service is very important when choosing a restaurant to dine at during off campus lunch. As students only have 35 minutes, the restaurant must be fast and efficient. 
McDonald's is known to be one of the most popular fast food restaurants in America. There are many different reasons why this is the case, but for students  the convenience is the location.
"McDonald's: Because Patty only gives us 30 minutes for lunch, it's the only place I have time to make it to and back to school on time. I also love the Big Mac and McFlurry. Shout out McFlurry,"  junior Aiden Sheehan said.
Being able to get to a restaurant and back to school is a priority for many students. Only six minutes away from school, Zaxby's has a convenient location for many students. Zaxbys has a combination of fast service and superior location, making it a first choice for many upperclassmen. 
"Zaxby's has really good service personally because I tend to always get my food quickly, and my friends and I actually have time to eat it compared to other places we go where we have to eat our food on the way back in the car," senior Ella Bowman said. 
The drive-thru line is one of the biggest factors in choosing a time-efficient restaurant for lunch. They can be long, inconsistent and inefficient. A lot of students fix this problem by going places that don't even have a drive-thru. Most of them find it easier getting the food themselves.
"It's not a restaurant, but Harris Teeter has the best food and service,"  junior Jonathan Workowski said.
Few restaurants tend to have shorter lines or faster moving lines than others. This is a big characteristic in the quality of service in these restaurants. Factors that go into the quick moving lines include quality of the workers, number of workers and popularity of the restaurant. There are definitely restaurants that handle lines better than others.   
"Tropical Smoothie because compared to McDonalds, they're way quicker. When you get there (McDonalds), there's always a long line, whereas at Tropical, if they have a line, they get through it really quickly,"  senior Leah Forringer said. 
Some upperclassmen value the ambience of the restaurant over the convenience of the location. Brueggers's Bagels is a perfect choice for many upperclassmen who would sacrifice the convenience of location, to eat at a restaurant who value each individual customer coming in and supporting their business. 
"Bruegger's Bagels because it has a good atmosphere and they are always really friendly there, and they do a good job greeting people,"  senior Paisly Bull said.
Some students value hospitality when choosing their lunch for the day. Some restaurants take the extra to make sure teens don't just enjoy the meal, but the experience as well.
"Definitely Chick-Fil-A. They are fast and quick with getting your food out, they are very polite, they always say 'my pleasure' at the end and they always give you extra sauce,"  senior Matthew Cullen said.
Eating out everyday can also take a toll on your bank account and body. It can be cheaper, healthier and in some cases more convenient for students to just go home for lunch. 
"I actually go home for lunch. My house is down the street, so I eat lunch at the house. It's more efficient for me to go home, and I don't have enough money to buy lunch everyday,"  junior Sophie Mooneyham said.